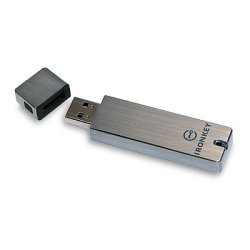 If you are looking for the ultimate in security for a new thumb drive take a gander at the IronKey, the military's solution to keeping their secrets safe. The IronKey is made to be both tough physically as well as data attacks.
For starters it encrypts your password using 256-bit AES and then encrypts that info a second time using 128-bit encryption. It may sound like overkill but heck why not do it? If a hacker wants to try and guess your password they only get 10 tries before the IronKey destroys all of the data it contains. If the villain tries to pop the drive open and get at the chips inside he will have a next-to-impossible task pulling it out in one piece since the guts are coated with an epoxy and would gum up the removal process.
You can also rest assured that you will be able to surf the internet securely when you use your IronKey. A secure copy of Firefox comes with it which opens a Secure Sessions Service tunnel back to the company's servers allowing you to ride the web anonymously and under browser encryption.
The IronKey reads at 30MBPS and writes at 20MBPS and it also surpasses military waterproofing standards just in case you decide to go for a swim with it. Right now the IronKey is only compatible with Windows XP/Vista but both Mac and Linux drivers are in development. You can pick one up in either 1 GB, 2 GB or 4 GB sizes which range in price from $78.99 to $148.99.
IronKey via ThinkGeek
durable, Flash Memory, IronKey, Storage, Waterproof