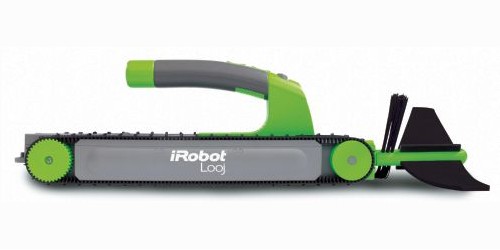 You have to admit that cleaning out gutters on your house in not an enjoyable task, and how cool would it be if you had some remote controlled robot that would clean them out for you? Well, we can think of a lot of little chores that a remote controlled robot would be handy for but that doesn't mean anyone is going to make them. That's why we were a little surprised to see this new gadget join the ranks of the iRobot crew.
The iRobot Looj is a little robot that runs on tracks which you can carry up your ladder (with an included belt clip so you can use both hands) and set in your gutter to have it clean out leaves, dirt, ice, sludge or any other debris that might be cluttering up the flow. The remote controls the direction of the robot moving it forward or back and the direction of the 500 RPM plastic rubber auger which will likely spew dirt and debris everywhere as it tears through your gutter. iRobot says the Looj can make short work of gutter-cleaning chores with the ability to take on 60 feet of gutter in 10 minutes.
The Looj comes in three models starting at $99 up to $169.99 if you add on accessories like a holster or an extra battery pack, and is available now.