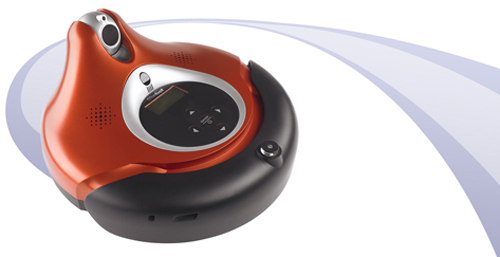 With the ConnectR virtual visiting robot as your proxy, you can now hear, see and interact with someone far away using internet connectivity. The device is easy to set up, use and maintain and provides Privacy and internet Safety features to restrict access or shut down audio, video or both when necessary. Up to ten PINs can be used to access the robot to facilitate multi-user one-at-a-time visiting privilages. iRobot has had some pretty trippy ideas, but this one is the trippiest yet.
The high quality two-way audio/video camera makes visiting easy providing wide angle and 16.7x zoom with 220 degrees of tilt for total control over video image. The robot can be controlled remotely from a computer connected to the internet or by remote control or joystick to allow the visitor to virtually participate in the activities of the host party.

The kit comes with everything you need to get started with a Wi-Fi connection and a PC with Windows XP installed being the only components not included. Setup is simple: download the ConnectR software to the PC enabling control over the robot and follow the step-by-step instructions to get the bot connected to the home network. The Robot comes with a Home Base for recharging the battery when not in use.
Pricing is set at approx. $500 USD and is available now only through the ConnectR Pilot Program but will be available to a wider audience sometime in 2008.