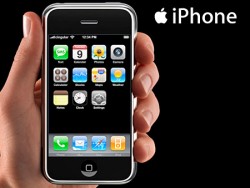 In the month of July the Apple iPhone accounted for 1.8% of all handsets sold in the U.S., making it the leader in smartphone sales for the month. In it's first full month the new mobile multimedia handset from Apple managed to outsell popular, long-standing competitors such as Blackberry and Palm devices. Whether or not the iPhone will continue to hold a true market share will remain to be seen, however. Much of the initial sales could easily be attributed to the hype that Apple is so good at building prior to the phone's launch.
According to the market research firm iSuppli, the "real proof" of Apple's ability to hold onto the market share it saw in July will come in the next few months leading up to the holidays. But, the number of sales that Apple was able to generate out of the gate for such a relatively expensive device is impressive, nonetheless. ISuppli is predicting that Apple will ship 4.5 million iPhones in 2007, and as many as 30 million by 2011.
The research firm also supplied some demographics of the typical iPhone consumer, being a male college graduate under 36 years old, but none of these demographic stats were landslides. What is slightly alarming, (especially to other carriers) is that the research found 25% of the iPhone buyers had switched to AT&T from another carrier in order to get the iPhone.
Apple seems to be far from done, however. Tomorrow the company is expected to announce a new line of iPods that are rumored to be something like an "iPhone Nano" having features similar to the iPhone minus the voice communications.