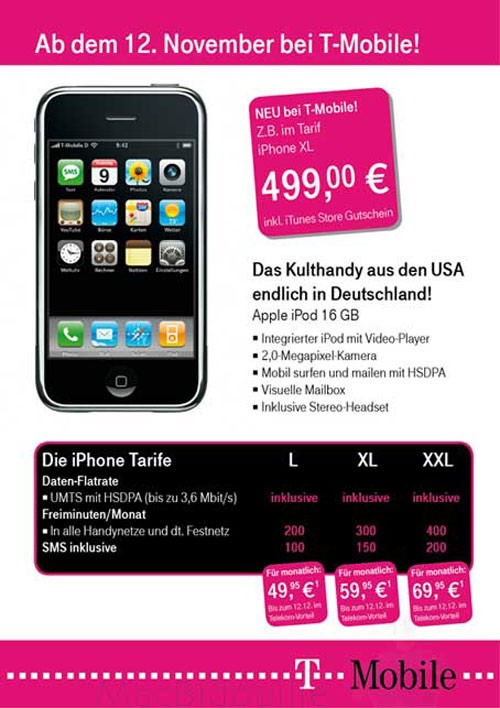 A leaked advertisement from T-Mobile Germany gives some inside information that the iPhone may be launching in Europe in November, with tri-band HSDPA and a larger storage capacity.
According to the ad the iPhone will have a launch date of November 12 with T-Mobile, which we knew Apple was planning a launch before the holidays but not exactly when. The iPhone will go for 499 Euros, or about $687 USD, which is higher than the US original price of $599 and way higher than the recently cut price of $399. But, it looks like this model will have 16GB of memory which is twice the largest 8GB model available in the US. It wouldn't be surprising if Apple started offering this larger capacity in the US before the holidays as well, which would make sense with the lower price on the 8GB and the discontinuation of the smaller 4GB version.
Everything else appears about the same as the US iPhone including Visual Voicemail and a 2 megapixel camera, and it comes with a stereo headset and an iTunes coupon. There will be three plans available which all include unlimited data and vary on calling minutes and SMS messages. The three rate plans range from 200 minutes per month for 50 Euros ($69) to 400 minutes for 70 Euros ($96).