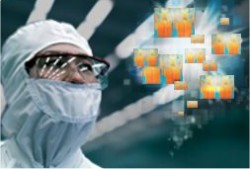 Intel announced today at the Intel Developer Forum in San Fancisco that the companies next generation of processors, code named "Penryn", are slated to start hitting the streets November 12. This announcement continues to fuel the race between Intel and rival chip maker Advanced Micro Devices, who within the last week unveiled new quad-core and triple-core processors.
The new Penryn chips from Intel promise a 20 percent performance boost along with improved energy efficiencies over the current chips available. The new Penryn's are able to achieve faster processing with less energy due to the companies new 45 nanometer manufacturing process, which creates ridiculously small circuitry that's only 45 billionth of a meter wide. Thirty million of these circuits could fit on the head of a single pin. Moving ahead to the 45 nanometer production gives Intel an additional edge over AMD in the processor manufacturing race since both companies currently product chips using 65 nanometer construction.
Intel Chief Executive Paul Otellini said that they plan to have 150processors based on the 45 nanometer technology by the end of this year, and a total of 35 by Q1 of 2008. At the forum Otellini also showed off a test processor created on even smaller 32-nanometer technology code named "Nehalem", which they don't expect to have available until 2009 but helped to further ensure common knowledge of the companies lead over AMD.