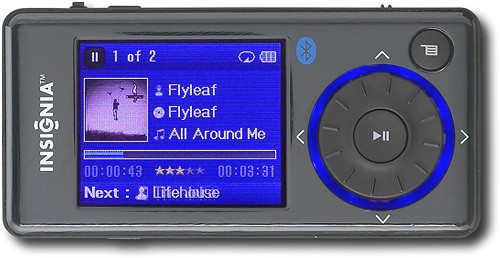 Along with quietly rolling out the Insignia Pilot, Best Buy also took the wraps off of the Insignia Sport "sporting" a similar but scaled down feature set with a scaled down price. Coming with an internal memory capacity of 2GB or 4GB, the Sport is also Bluetooth compatible letting you listen with your wireless Bluetooth headset. It supports playback of MP3, WMA, WMA Lossless, WMA DRM and OGG music formats along with slightly choppy (15fps) MPEG4 video and JPEG still images.
The player has 1.7″ color LCD screen and an FM tuner with RDS so you can see the artist and song names from participating stations, and lets you save the RDS data of songs you like for later when you want to get online and download them. Speaking of saving song related information, this player also lets you rates songs that you play from your media with a dedicated ratings button.
Even though the Insignia Sport maxes out at only 4GB, you can increase it at your own pace while still getting feature rich, affordable player by expanding your memory with a microSD card, and data can be transferred through an included USB cable. It measures a relatively thin 0.4″ x 1.6″ x 3.3″ and boasts up to 25 hours of continuous music playback off of a single charge. The Sport players retail for $120 for the 4GB model and $100 for the 2GB, both currently on back order from Best Buy.