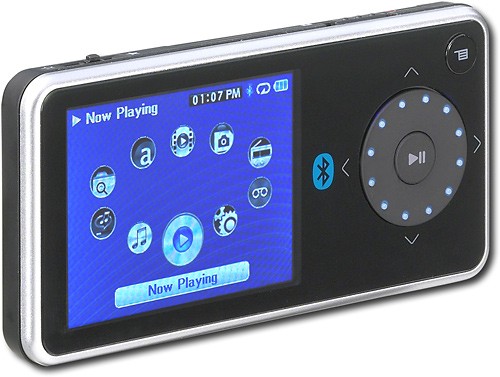 Last weekend Best Buy made a quiet release of their latest line of the budget-minded Insignia media players, one of which being the 4GB Insignia Pilot. The Insignia players have always been somewhat in the background, offering decent "Best-Buy brand" players at affordable prices, but this latest release has some competitive features at a very competitive price which should give a lot of more popular brands a run for their money.
The player supports playback of MP3, WMA, WMA Lossless, WMA DRM, WMA Pro, OGG, WAV and Audible audio files along with MPEG4 (30 fps) and WMV (30 fps) for video. It will also support viewing JPEG still images. Users can watch video and view images on a nice-sized 2.4″ widescreen LCD and it offers up to 25 hours of audio playback on a single charge.
The Pilot also has an FM tuner with 20 presets available, and has built-in RDS letting you view the artist and song information from FM stations that broadcast RDS. When you hear a song you like you can even save this RDS data to reference later.
This PMP also has wireless Bluetooth letting you listen with a wireless Bluetooth headset and lets you expand that 4GB of internal memory with an SD card expansion slot. Its compatible with PC's and Mac's, connecting through USB 2.0 and measures only 3.3″ x 1.6″ x 0.4″.

Insignia Pilot via AnythingButiPod
Insignia, media player, MP3 player, Pilot