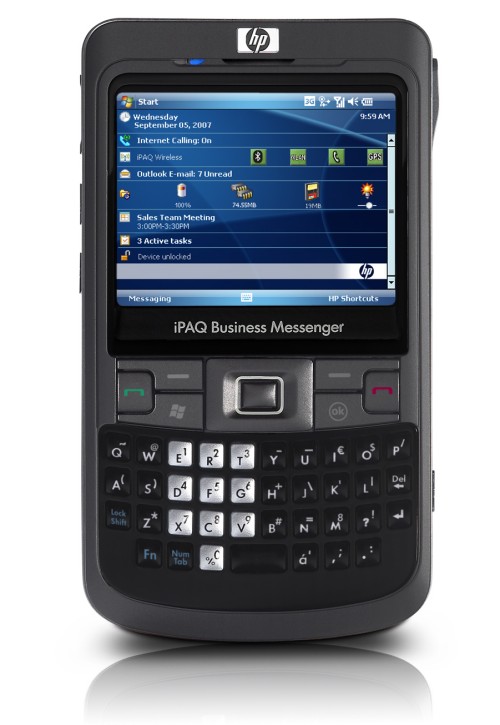 HP has introduced a slew of new iPAQ products this week with one of them being this ultimate world traveler device called the iPAQ 914 Business Messenger. Th 914 just reeks of connectivity as a Quad band GSM/GPRS/EDGE phone with tri-band HSDPA, built-in 802.11 b/g with WPA2 security, Bluetooth 2.0 and integrated GPS.
This Business Messenger fits its name well, meeting the majority of the connectivity needs for a world business traveler. It features a full QWERTY keyboard for fast typing of messages, a convenient scroll wheel and the HP VoiceReply and VoiceCommander let you listen to emails and reply (among other things) without touching or looking at the device, making it easy to do while driving.
While traveling abroad the 914 maintains connectivity through the 3G and Quad-band voice connectivity and the built-in GPS along with pre-loaded Google Maps will help you get around. Integrated software even lets you plan your route from your PC and then upload it to the smartphone.
Getting on the internet is a breeze using one of a few options available, including the HSDPA wireless data network, Wi-Fi or when your notebooks connected to a LAN you can connect to it with the HP iPAQ Device Connect.
The iPAQ 914 also features 2.46-inch TFT 65,000 color touchscreen display at 320×240 resolution, a 3 megapixel, 4X digital zoom camera, a microphone and speakers and a headphone jack, MicroSD card slot for memory expansion, and 128MB of SDRAM with 256MB of Flash ROM. The device measures 4.45" x 2.52" x 0.63" and weighs 5.15 ounces.
As of yet there is no exact release date for the iPAQ 900 series Business Messenger, but we would expect it to come out yet this year. As soon as a release date and pricing is available we'll let you know.

iPAQ 900 Series Business Messenger