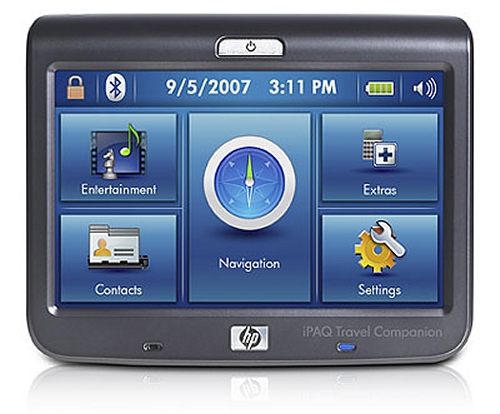 Today HP launched its 300 series portable GPS units through the iPAQ 310 Travel Companion, featuring a 4.3-inch touchscreen interface on a 3D, turn-by-turn navigation system.
The iPAQ 310 shows off some fast response times by housing a Centrality Titan 600MHz processor and 128MB SDRAM with 2GB of Flash ROM, running on Windows CE 5.0. The memory can be expanded with a microSD card slot to hold your additional media of pictures, songs and video to look at during those special, non-navigating moments with your GPS. It also has built-in Bluetooth which allows you to use the unit has a hands free phone answering system through its microphone and speaker along with your Bluetooth enabled phone.
The navigation software features turn-by-turn directions announcing the actual street names along the way with text-to-speech to help keep your eyes on the road. It will also find millions of points of interest such as restaurants and stores, and uploading your Outlook contacts to the device will let you navigate directly to their addresses without having to enter them. Some included software will even let you plan your route in advance on your computer and upload it to the iPAQ 310, and it features support for RDS/TMC to get the current traffic data when you go.
Unfortunately HP doesn't have any info quite yet on availability, but assures us on their product site that it's "coming soon". The iPAQ 310 will be retailing for $449.99