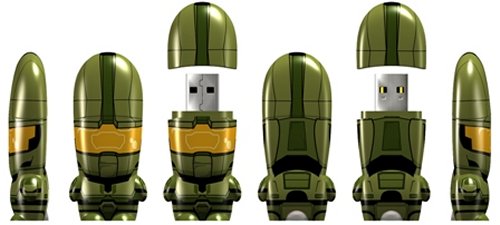 Got Halo? With yesterday's release of "Halo 3″ it seems everyone is jumping on Bungie's first-person shooter bandwagon. 7-11 has "Halo" Slurpee cups, Doritos have "Halo" branded chip bags and Mountain Dew is calling their pop "game fuel". Although I do think those early pregnancy tests are taking things to far…
Mimoco is releasing their own "Halo" series of USB flash drives in three weeks. Compatible with USB 2.0 protocol the Halo Mimobot Series 1 line replicates the likeness of Master Chief, "Halo"'s hero. You can pick a drive in Spartan blue, red or Master Chief's preference, forest green. They're a little goofy looking but then again it's supposed to be a tiny USB drive, right?
Mimoco's Halo USB drives are going to be limited editions. The Master Chief Green version will be limited to 5,000 drives while Red Spartan and Blue Spartan drives will max out at 3,000 units. Each Halo USB drive will come pre-loaded with Halo themed screensavers, wallpapers, comic book pages, sound files and excepts from an upcoming "Halo" novel. The 1GB version will run you $49.95, 2GB will be $69.95 and a 4GB goes for $109.95. They start shipping on October 18.