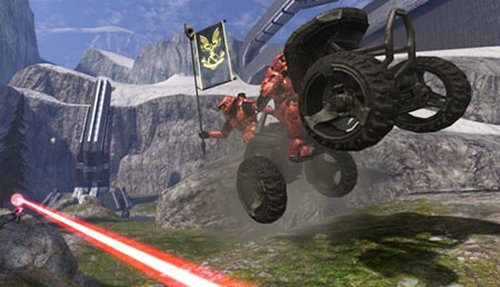 Microsoft is happy with the tally of "Halo 3″'s first day of release. The software giant has released a statement saying that sales figures for America alone for the first day of release for "Halo 3″ turned out to be $170 million dollars. That exceeds the $125 million in first day sales that the earlier installment, "Halo 2″, accomplished in 2004. It also gives Microsoft the bragging rights to claim that "Halo 3″ earned more on its first day than any previous Hollywood movie ever made on its opening weekend.
"'Halo 3′ has become a pop-culture phenomenon," said Shane Kim, the corporate vice president of Microsoft Game Studios. "Not only is 'Halo 3′ setting sales records, it's also redefining entertainment. Within the first 20 hours alone, we've seen more than a million Xbox LIVE members come online to play 'Halo 3′ – that makes September 25 the most active Xbox LIVE gaming day in history."
To give you an idea of what kind of traffic level that is for the Xbox Live network consider that the worldwide total number of memberships for the service is around 7 million. That means at least 1 in 7 people that have Xbox Live were online and playing "Halo 3″ on its first day of release.