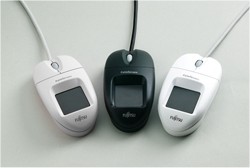 Fujitsu today unveiled a new product in PC security that uses "palm vein biometric authentication" to secure access to computers called the PalmSecure PC Login Kit. The kit comes in two versions, one as a standard which incorporates the palm vein scanner and the other that doubles as a standard computer mouse with the vein reader built in.
The palm vein device from Fujitsu uses a newer type of authentication which uses near-infrared rays to identify the unique patterns of veins in a persons hand. The system promises to provide secure authentication since no two persons vein patterns are exactly alike, and is touchless providing a more hygenic biometric authentication than touching a fingerprint scanner. Also, since the technology looks for deoxidized hemoglobin in the veins to reflect the pattern a hand with no blood pumping through it won't work, if you catch my drift.
The PalmSecure Kit from Fujitsu has been improved from some of the earlier designs offering a faster read time with a greater tolerance for hand distance and angle changes while reading. The kit also comes with its own authentication software so there's no need to sync it up with a network side authentication system, it can work as a standalone system.
Fujitsu PalmSecure via FarEastGizmos