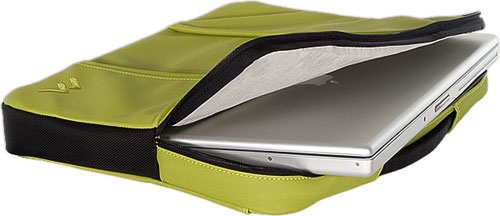 Brenthaven, a developer of computer cases, introduced yesterday a new line of slim, stylish cases for MacBooks and MacBook Pros. The Eclipse Sleeves come in three sizes, ranging in price from around $40 to $45, are available starting this month.
The Brenthaven Eclipse Sleeves I, II and III are custom fit for the MacBook 13.3″ and MacBook Pro 15.4″ or 17″ and are available in multiple colors including black, pink and green. They are made of a lightweight material which features a 4-side, high-density foam protection system and a faux-suede interior. A retractable handle and back slip pocket are also built in.
As you can see from the photo the Eclipse Sleeves certainly are attractive. If I owned a MacBook I'd consider one. Since I own a Windows machine though I guess I'll just stick with tossing it into my gym bag for the time being.
Brenthaven Eclipse Sleeves Press Release