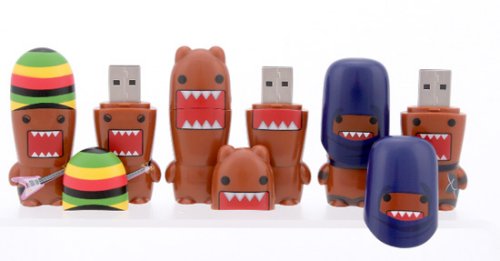 That fuzzy brown square thing with the great white shark-like mouth is a character named Domo. Created by the marketing department of Japanese television station NHK back in 1998 to be their mascot, Domo became a viral phenomenon as internet users grafted the image as their forum icon.
Seeing their creation catch on to the zeitgeist, the TV station licensed out the rights and Domo products soon started appearing on Japanese store shelves. This fall a series of 26 two-minute short films featuring Domo and his cave-dwelling friends will begin appearing on Nicktoons suggesting that he's about to really invade America's cultural landscape.
Mimoco has nabbed the rights to make Domo flash drives and will be shortly releasing them to consumers. Ranging in size from 1GB ($49.95) to 4GB ($109.95) the drives are fully compliant with Windows and Mac platforms. Better still is the fact that Domo could probably devour Hello Kitty in a one-on-one fight. Domo is cute but in the same kind of way that Jaws was cute.
via Geek Sugar