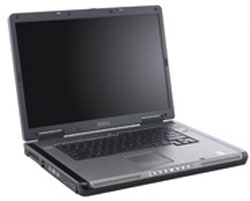 Dell is bringing some new power to its lineup of Precision mobile workstation computers today. The computer manufacturer announced the Precision M6300, available now for a base configuration price of $2,070.
The Dell Precision M6300 borders on being a desktop replacement model, sporting a 17-inch wide aspect WXGA+ display. It's powered by 64-bit Intel Core 2 Duo and Extreme Edition processors up to the X7900 and combined with NVIDIA Quadro FX1600M OpenGL discrete graphics. You also get up to 4GB of RAM and your choice of hard drives, including solid state and encrypted.
The Precision M6300 is primarily geared towards graphic artists, developers and the like. Given that is is supposedly certified to handle popular, power hungry applications in a variety of speciality fields like science and software development we can easily see why it's considered top of the line.
Dell Precision M6300 Press Release