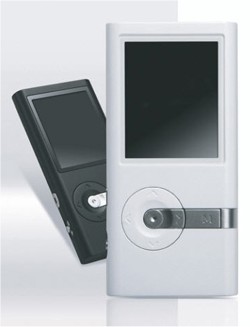 Cowon introduced the iAudio U5 media player at IFA this week and while it has a slimmer and simpler design than the iAudio 7 that Cowon released in June, we don't find the looks of the U5 quite as appealing.
The player is an audio player only, sporting a 1.8″ TFT LCD with 128×160 resolution and uses an on board equalizer to fine tune MP3 and WMA files. You can also use it to record the FM radio through a built-in tuner or do direct voice recording to the player through its microphone. The iAudio U5 has a rechargeable battery with as much as 20 hours of playback and comes in capacities of 2GB, 4GB and 8GB and can double as mass storage through a USB 2.0 connection.
There was no word on pricing or availability quite yet, but from the common-item feature set this looks like it will be a relatively affordable DAP from Cowon.
PlayerBites via Engadget