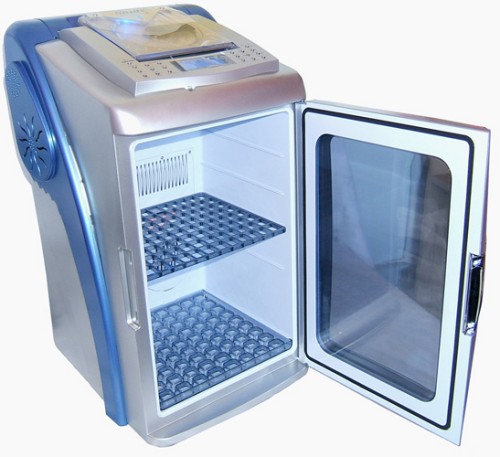 The Cooltone Mini Fridge provides an interesting combination of popular dorm room items into one "cool" package. This refrigerator has a 22 liter capacity which is enough to hold 20 standard beverage cans and keep them cold, but there's much, much more.
The Cooltone gets its name from the multiple music-playing features included in this unlikely combination. On the top of the fridge is a standard top loading CD player and and AM/FM radio which both play music out of the integrated speakers built into the sides of the Cooltone. Users can also connect stereo headphones or connect external speakers to further enhance their extra-cool music. The fridge/stereo also has a standard 3.5mm input jack where you can connect an auxiliary MP3 player to sound through the speakers for the rest of us who no longer have any CD's.
Lets also not forget the integrated alarm clock which rounds out the not-so-obvious features of this cooling machine. Other amenities include a remote control, glass panel door and cool blue lights inside both the fridge and in the player on top. The Cooltone fridge/CD player/radio/alarm clock combo all together retails for £129.99 (about $263 USD).
cooltone, mini fridge, refridgerator