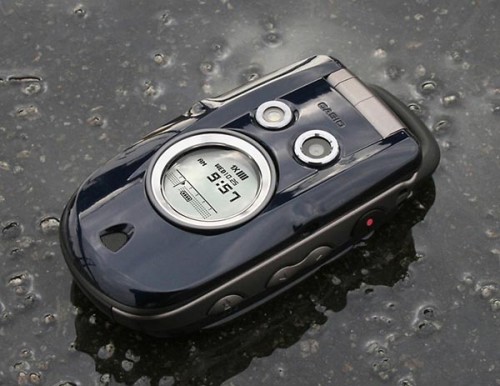 This past June we wrote about Casio's tough G'zOne Type-S mobile phone when it was released and we recently got a chance to get our hands on one to see just how tough this thing really was and what "water resistant" really meant. What we found is that the G'zOne Type-S lives up to its hype on standing against the elements and also had some nice surprises we were not expecting.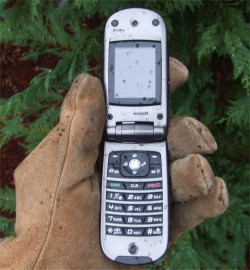 Although there are a number of cool things with this phone, we have to start with its water resistance. Usually when we hear "water resistant" we get the impression that it might handle a little drizzle outside but not completely submerging it in water, so we started with a little test in the Portland, OR area rainy outdoors. We quickly found that this wasn't a challenge and just dropped the phone in a pitcher of water. When fully submerged for over 30 minutes it continued to work flawlessly receiving calls and resonating them through the water on speakerphone. We would have to assume that the same holds true for a shallow body of water, bucket of water, toilet, etc., which would all normally brick any other phones we've tried. The headphones and charging ports needed to be closed for this of course, and the battery cover even has a special screw lock (a tools comes with to open this if you need it) to seal the cover tight.
It was a little hard to make out the words at times when the phone was underwater but after quickly syncing up an NX6000 Bluetooth headset (yes, this model has Bluetooth) we were able to receive and make calls while the phone was completely underwater. This was very cool. Once we were satisfied with the water resistance we had to put the Type-S up against our signature under-vodka test which usually ends up with a little abuse along with submersion. The next day the phone came out unscathed which is more than we can say for ourselves.
The G'zOne Type-S also was able to stand a number of drops, bumps and tossing back and forth (which also resulted in a number of drops and bumps). The phone is actually touted as "military grade" passing the military MIL-STD-810F standards with an ability to withstand water immersion, shock, solar radiation, dust, extreme temperatures, vibration, fungus, and some explosions.
A couple things that we felt the phone could have used was EV-DO. One of the nice things about having a Verizon phone is the ability to use V-Cast and while this phone probably doesn't target the same type of people that frequently download music it certainly wouldn't have hurt. Also by the same token the VGA camera doesn't take the greatest quality pictures. If you plan to use your phone for taking photos for your job or just for yourself this isn't the one to do it with, but it does record short video as well. The display was also a little on the small side but again, if you're looking for a rough outdoors-type phone a big display is probably not on your lists of "needs".
The aforementioned Bluetooth connectivity was a real nice feature added to this model which wasn't present in the previous Type-V model. This turned out especially useful when clipping the phone on using the loop built onto the top of the phone since I could just leave it hooked and answer via my headset. Also the flash on the front for the camera doubles as a weak flashlight, which could also come in handy from time to time. Also the buttons on this model were raised and easy to find and press accurately, even for big fingers with a simple and intuitive navigation.
We also were surprised to see a stopwatch and countdown timer that displays on the front display of the phone. Using both of these can be done easily without even opening the phone or navigating any menus. The battery for the Type-S is rated for 3.25 hours of talk time and 7 days of standby, and while the talk time seemed inline with what we found we were able to get over double the standby time with no calls.
Overall we would highly recommend the Casio G'zOne Type-S to anyone that works in rugged, wet or outdoor environment where a trendy, super-slim phone just won't last. It might not be the cheapest model available from Verizon but at $149.99 with a discount and a 2-year contract you'll probably save yourself money but not having to replace your phone every time you drop it on the job.
Casio G'zOne Type-S from Verizon