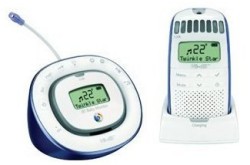 The BT Baby Monitor 150 is set up with some advanced features not typically found in a standard monitor that actually seem fairly practical.
For starters the 150 is able to connect to your MP3 player and play back Hi-DS music, so you can download your infants favorite songs and play them through the monitor. Owners can also record their voice into the baby's unit to play back at a later time giving the baby the familiar sound of your voice without having to get out of bed. If you do end up waking up the parent unit has a "talk back" feature that basically turns the monitor into a two-way radio, letting you talk to the monitor from the remote unit.
The parent unit on the BT Baby Monitor 150 is also able to read the room temperature of the baby unit, houses a flashlight,has a mute function, a timer/alert feature and can be set to vibrate instead of an audible alarm. It can monitor the baby unit up to approximately 50 meters away indoors or as far as 300 meters outdoors without walls. If you're too far away the portable unit will give you an out-of-range warning.
And of course the monitor comes with a number of the more standard features such as an adjustable nightlight, adjustable volume and sensitivity, some built-in lullaby songs and a LED sound level indicator. Both units can be plugged in or are battery powered and have an indicator when the battery is getting low. The monitor is priced at about $141 but might only be currently available in the UK.

BT Baby Monitor 150 via Engadget