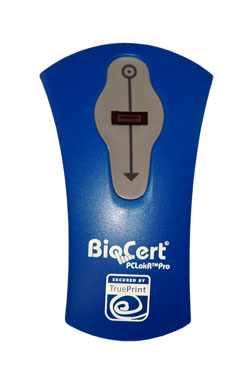 Artemis Solutions Group, through its BioCert division of of fingerprint security devices, is making available a new fingerprint reader for small business and home computer users. The BioCert PCLokR Pro 1610 is priced at around $40 and available now.
The BioCert PCLokR Pro 1610 incorporates a new slide fingerprint sensor which BioCert says is very accurate. It's a small fingerprint reader which supports up to 25 users desiring to login into a particular PC. A slightly more expensive bundle version comes with PC security software.
BioCert is also proud to say that this product line is one of the only of its kind to be designed, assembled and tested here in the good old USA. I suppose that's worth something – I wouldn't want this failing like other cheap Chinese electronics when it comes time to provide security for my laptop.
BioCert, finger scanner, Security