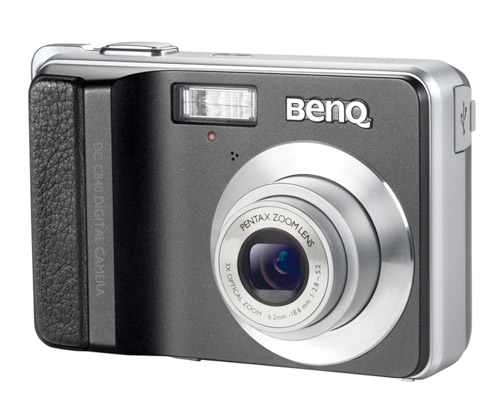 This week BenQ announces an upgraded version of their C740i camera with the C840. The new model features a 2.5 inch LTPS screen with an 8MP resolution and 3X optical zoom. The camera allows for full control over the outcome of the image with its P/Av/Tv/M feature.
The C840 is equipped with a Pentax lens facilitating 99.8% light penetration making it the most light sensitive camera in its class. An emphasis on widescreen shooting and an optional 16:9 resolution ratio for HDTV display shows that BenQ is forward thinking with this camera. MJPEG videos are shot at a near DVD quality 720×400 resolution at 30 frames per second and are optionally stored in its 4GB internal storage or SDHC card, support for which is an upgrade from the C740i counterpart.
Some of the 15 different shooting modes include Face Tracking, Shake Free and High ISO Portrait. In program mode, control light saturation. Aperture Priority mode helps with depth of field or prevent blur in Shutter Priority mode and of course there is a Manual mode to allow for more control and creativity.
Pricing and release date are still unavailable but the C840 will be shipped internationally.
BenQ C840 digital camera via Electronista