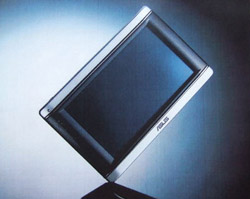 The ASUS R300 and R700 GPS receiver touchscreen media players are planned for European release in November. Both units share the same primary functionality with subtle advantages for the R700.
There are two differences between models. Pictured right is the R700 with a 4.3 inch screen while its R300 counterpart sports a 3.5 inch display. The R700 model includes a RDS-TMC GPS receiver for obtaining traffic data in GPS mode while the R300 does not. The remainder of publicized features are identical.

Both units support GPS functionality and are media players supporting AAC, MP3, WMA and MPEG-4 (H.263) video, provide 64MB of RAM and 128MB of ROM with MicroSD expansion support and a 400MHz Samsung CPU. Other features include Bluetooth 2.0, the ability to send SMS messages and an FM Radio tuner.
Pricing for the units is unavailable.
ASUS GPS R300, R700 Media players via Electronista