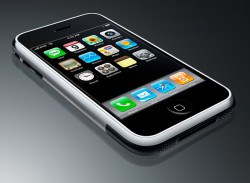 Yesterday Apple sent out a short and to-the-point message about using software hacks to unlock the iPhone, in which they basically warn not to do it. Apple has a new software update coming out for the iPhone in a couple weeks that among other things will contain the new iTunes Wi-Fi Music Store and could very possibly have something that will "take care" of hacked iPhones, intentional or not.
According to the statement issued by Apple, hacks that unlock the iPhone could cause the phone to be irreparably damaged after installing the update that Apple is planning on sending out, and these unlocking hacks are not covered under the iPhone warranty. Press release after the jump:
CUPERTINO, Calif., Sept. 24 — Apple has discovered that many of the unauthorized iPhone unlocking programs available on the Internet cause irreparable damage to the iPhone's software, which will likely result int he modified iPhone becoming permanently inoperable when a future Apple-supplied iPhone software update is installed. Apple plans to release the next iPhone software update, containing many new features including the iTunes Wi-Fi Music Store (http://www.itunes.com), later this week. Apple strongly discourages users from installing unauthorized unlocking programs on their iPhones. Users who make unauthorized modifications to the software on their iPhone violate their iPhone software license agreement and void their warranty. The permanent inability to use an iPhone due to installing unlocking software is not covered under the iPhone's warranty.
If you've already partaken in some iPhone unlocking software you may want to just wait for the next hack before installing Apple's update.
Apple, Hacks, iPhone, unlocking iPhone, warning