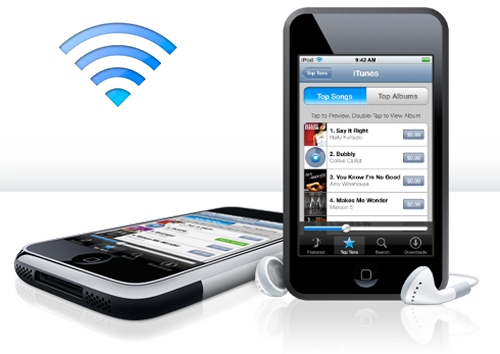 Along with all the cool new stuff announced by Apple today the company also unveiled a new upcoming, wireless music download service called the iTunes Wi-Fi Music store.
The Wi-Fi Music store allows owners of the iPhone or the iPod touch to access and download over six million different songs through any Wi-Fi hotspot directly to their mobile device through a new iTunes button.
Once connected users can find top rated lists of songs or simply search for songs by artist, album or song name and listen to a 30 second preview and purchase it for the same rate found on iTunes. The next time you dock the iPhone or iPod touch it will automatically sync the songs with iTunes.
If that doesn't make spending lots money on iTunes music enough of a breeze for you, Apple also created a special deal with Starbucks, one of the nations other most highly addictive retailers, to provide free access to the Wi-Fi music store while visiting. The companies have even added a special "Starbucks" icon to the interface of the iPhone and iPod touch which appears when you are at a Starbucks location. Tapping on the Starbucks icon lets you know what song is currently playing in the store and then lets you buy it. How's that for convenience?
Jobs and Apple say that the Music store will be available later in the month to go along with the launch of the iPod touch.

Apple iTunes Wi-Fi Music Store