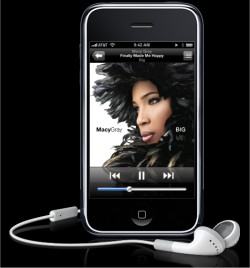 Amidst announcements of a number of new iPod products and product upgrades, Apple made a surprising move today by cutting the price of its iPhone, likely much to the dismay of early adopters. Apple is now selling the larger 8GB version of its iPhone for $399 which is down $200 from the original $599 price only a couple months after the products initial launch.
Apple also said it is going to discontinue the 4GB model of the iPhone altogether, now selling it at $299 until the supplies run out.
This seemingly drastic cut in price for the iPhone might be an indication that the product sales overall aren't meeting Apple's expectations, despite rocking the smartphone sales in July. There's also a good chance that a larger capacity version of the iPhone is on the way but we'll probably have to wait until another big announcement day to find out.
Apple iPhone (Apple Store)
4GB, 8GB, Apple, Apple iPhone, iPhone, price cut