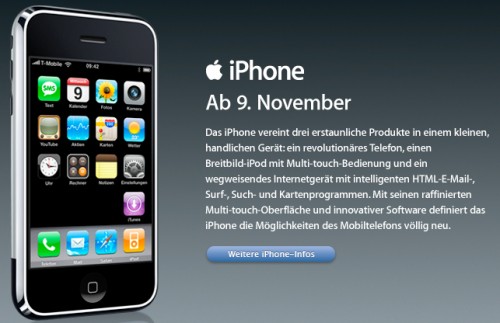 Today Apple made an announcement, as expected, that the iPhone would be coming to Germany with T-Mobile as the carrier. What we weren't as sure about is the launch date since the release for Germany wasn't announced at the same time as the UK. But it looks like Apple isn't going to let Germany go around iPhone-less any longer than its neighbors and the mobile gadget will launch on the same day – November 9.
There were some differences in todays announcement compared to Yesterday's. Like everywhere else, the German version of the iPhone will not support 3G, however there was no mention of the hundreds of Wi-Fi hotspots that will be scattered around to provide data connections like O2 is planning for the UK. Also no service plan rates were announced, but they did say the the iPhone itself will be going for €399 (about $550 USD).
This all means that folks in the UK and Germany have just under 3 weeks until they can get an iPhone with a legitimate carrier. Now the next question is a launch date and carrier for France.