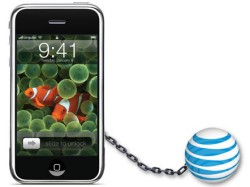 Apple released the expected version 1.1.1 update to the iPhone firmware today with fixes for some critical bugs and the additions to support the iTunes Wi-Fi Music Store. But what makes this release such big news are the less-known things in the update that threaten to brick unauthorized, unlocked iPhones.
Prior to the update Apple put out a warning to those with unlocked iPhones which basically stated that the next firmware update may render these unlocked phones useless, and the result is not covered by the warranty. With the new firmware update iPhone owners were presented on screen with the same message before installing the update:
"WARNING: Apple has discovered that some of the unauthorized unlocking programs available on the Internet may cause irreparable damage to the iPhone's software," the message read. "If you have modified your iPhone's software, applying this software update may result in your iPhone becoming permanently inoperable."
So far through reports on various blogs including Gizmodo, the 1.1.1 firmware update is not completely bricking the unlocked iPhones but they are brought back to the activation screen and cannot be activated, which is really no better. Firmware updates on iPhones with Installer.app leaves the device operational but the apps are not usable. iPhones that followed the rules and have no modifications seem to be taking the update just fine and those folks are probably already trying to get free songs at Starbucks right now.
Hacks, iPhone, iPhone firmware, unlocked, updates