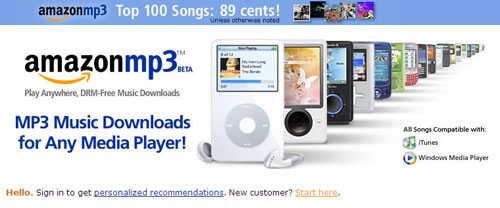 Amazon.com went full steam into downloadable MP3s today, unveiling a beta version of Amazon MP3, its new digital music download store. Most songs will range in price from 89 to 99 cents, while albums will run you $5.99 to $9.99.
Amazon MP3 features over 2 million songs from more than 180,000 artists represented by over 20,000 major and independent labels. All downloads will be MP3s which are DRM-free, meaning there's no restrictions on what device or music management software is used to play them. Songs can even be burned to CD.
Will this take away from Apple iTunes we wonder? It's hard to say – a big part of the iPod eco-system is the player itself. Some may not want the hassle of having to import music into iTunes, while others may be happy with the selection available through the iTunes Store.
Amazon, amazon mp3, DRM Free, music, music download