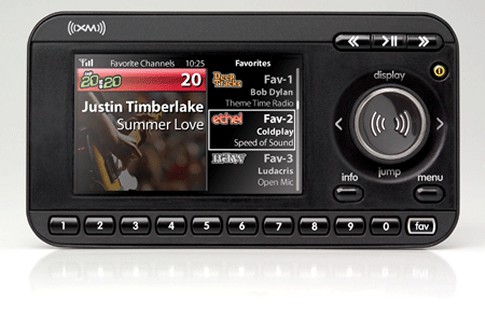 XM has announced the release of the XpressRC satellite radio receiver as an upgrade to the XpressR we showed you in June expanding on some features, adding some features and now in color.
The XpressRC's most notable feature has to be its display. Now in bright colors you can customize the display to show the information you'd like to see with the super-convenient option of splitting the screen. With the display split you can see on one side what's currently playing and the other side lets you browse as many as 3 other stations to see what else is on without changing what you're listening to.
The buffer time has been doubled now giving a 60 minute rolling timeframe of recorded playback letting you pause and go back to listen to a sporting event, song or anything else on the station. They've also added the ability to record and save up to ten of your favorite songs in memory on the player.
You can also save up to 10 of your favorite channels for quick navigation, and that remote control along with stocks and sports ticker are still included. Another very nice convenience addition is TuneSelect, which alerts you of your favorite song or sports team showing up on another any other station. XM is saying the new XpressRC will be available yet this fall for $169.99.
XM Press Release
Delphi XpressRC