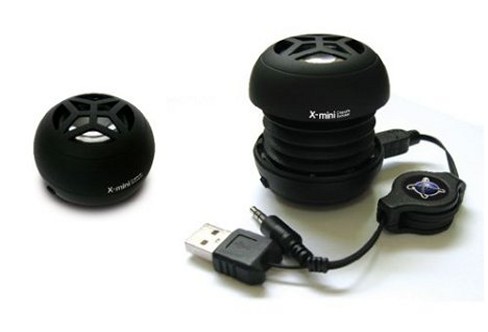 At only 52mm at its widest point when closed the X-Mini capsule speaker from XM-I adds some serious sound to your portable player in a very compact package. The X-Mini opens up with an accordion-like middle to 54.5mm tall to expose a patented vacuum bass chamber which is designed to "mimic the resonance of a sub-woofer," according to the company.
It's also built with s high-fidelity 2.4W speaker to give good sounds in the mid and high ranges as well. The X-Mini connects through a standard headphone jack and also has a USB connection which will juice up the built-in rechargeable battery which lets you share your music with others without the need for an external power source. The pocket-sized speaker's battery can charge via a DC power source taking 2.5 hours or through the USB connection to your computer in about 4 hours. This gives anywhere from 2 to 8 hours of playback through the speaker, depending on the decibels your cranking out of it.
Currently the XM-I X-mini is available only in Singapore retailing for an equivalent of $32 USD.
Product Page via Krunker
portable speakers, Speakers, X-mini, XM-I