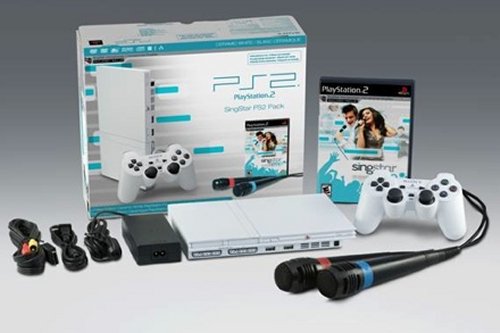 Sony is still thinking that there's life left in the old PlayStation 2 and it's probably right considering how poorly the PS3 has faired in the next gen console war. To attract any remaining consumers out there still holding out on picking up a PS2, or simply to whet the interest of the collectors market, the company has revealed that it will sell a limited edition Ceramic White PlayStation 2 bundled with "SingStar Pop" and two of its high-quality USB microphones. The new white PS2 bundle will hit stores in November and retail for $149.99, just in time for Christmas gift giving.
"SingStar Pop" is a karaoke game where you and your friends/family/American Idol wannabe friends can croon the tunes sung by old and new pop stars including hits originally sung by Alicia Keys, U2, Rihanna, Ashlee Simpson, The All-American Rejects and The Clash. Up to eight players can battle it out in a variety of singalong contests including solos, one-on-one matches and duets.
With over 44 million PS2s sold in just North America, and 117 million across the world, Sony is still forecasting that another 10 million PS2 will be sold between now and March 2008.