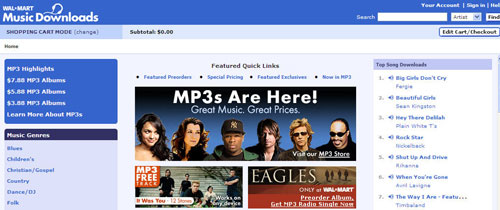 Wal-Mart is jumping on the DRM-free bandwagon by announcing today it is making available MP3s for purchase without license restrictions. These tracks should be available starting now.
The new DRM-free tracks and albums are available major record labels such as Universal and EMI Music. The tunes will be available at 94 cents per track and $9.22 per album. Wal-Mart will continue to offer its existing WMA-format music downloads as well.
This move by Wal-Mart matches competitors like Apple in opening up music downloads to non-protected offerings. It remains to be seen though how moves like this will dent the huge online black market for pirated MP3s.