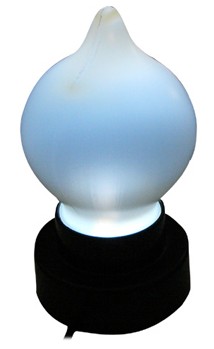 Although it makes me shudder every time, when I see this lamp I envision a multitude of these little things mounted on the walls of programmer cube farms so managers can make sure the keyboards are always going. Due to this I think this lamp is just a horrible invention. Of course, I'm sure it can be used for purposes of good as well, and with a little therapy I can probably get there.
The idea of this USB powered desk lamp is that it changes colors and brightness based on your typing speed. When your fingers are idle the lamp is yellow, but then changes to blue and increases its intensity directly proportional to the WPM you can crank out. Maybe it can be used in the dark as a learning aid for typing, so you can't peek at the keys when your hands stop?
If you are interested in just seeing how bright you can make the lamp yourself, you can pick one up for just under $18.
TokyoMango via tfts
lamp, typing, USB, WPM