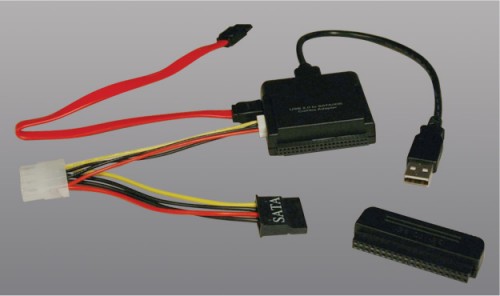 Even though the size of hard drives are continually increasing so does the media that you store on them, requiring you keep buying more drives and bigger capacities to store all of your awesome-quality high-def content. A real pain however is having to go through the process of powering down your computer, opening up the case and connecting one of these new hard drives just so you can format it or transfer some data to it. Also, I've found that sometimes there just isn't another SATA or IDE connection available once I get the case cracked open.
The folks at Tripp Lite have made this a whole lot easier with this set of cables designed to let you connect your SATA or IDE drive external through a simple USB 2.0 adapter. The U238-000 USB 2.0 SATA/IDE Combo Adapter allows for individual or simultaneous connection to a drive to configure it or transfer data without having to install it, turning any internal hard drive into an external USB storage device.
The USB adapter supports 2.5", 3.5" and 5.25" SATA and IDE devices and comes with a serial ATA cable, a 2.5" and 3.5" IDE converter, power adapter and HDD power cable. The company even throws in a lifetime warranty. You can find the adapter for around $44 from Buy.com which is quite a bit cheaper than most enclosures and great for temporary access.

Tripp Lite USB 2.- to SATA/IDE Adapter