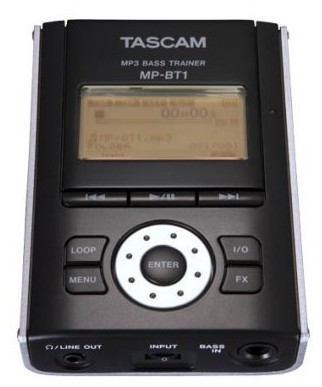 Tascam is plunking out two more trainers to accompany its already released guitar trainer for would-be rock stars. The MP-VT1 and MP-BT1 are vocal and bass trainers (respectively) with 1 GB of memory each, 128 x 64 res screen and an input for your microphone or bass player.
As you sing or play along to the songs that you've already saved on the unit you can record and manipulate your own effects and embed your own signature style with the song itself. Think of it as "Guitar Hero" but the size of an MP3 player and you don't have to hit the notes you see on the screen, or better, a serious kind of karaoke player for that singer/musician you know.
Prices and availability of the new Tascam trainers are yet to be revealed but if they follow along with the guitar trainer that came out last February, expect these new models to retail for about $180.