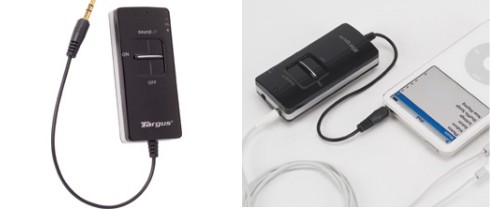 Targus has been well known for making computer bags, backpacks and other small computer accessories such as mice and keyboards. Today the company announced the SoundUP, designed to work inline with your headphones to improve the sound quality of compressed audio media.
The SoundUP device itself measures about the same size if not bigger than many MP3 players with dimensions of 3″ x 1.5″ x 7/8″ and a weight of just under 2 ounces. Targus says it uses a High Definition Sound Enhancer to "separate and reprocess digital music files, providing a three dimensional sound envelope from your MP3 player". The device promises to improve the overall sound of files that are compressed for size, bringing out instruments and music that normally would not be heard otherwise.
The device plugs into any standard 3.5mm headphone jack on an iPod or other MP3 player or computer and has two headphone jacks coming out to allow more than one person to listen to the full sound at full volume. The Targus SoundUP runs off of a single AAA (supplied) battery and has three modes to use while plugged inline of your headphones of Off, On (Bypass) and the SoundUP mode and has a street price of $29.99.