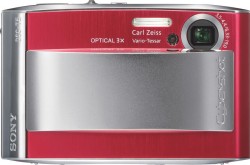 Sony has announced that it is recalling around 350,000 of its DSC-T5 Cyber-shot digital cameras due to peeling and warping of the coating on the bottom of the camera. The peeling metal coating could potentially scratch or cut the user and Sony has offered to replace the bottom portion of the camera at no charge. Sony says that all the injuries reported as a result of the defective coating so far have been minor.
According to the Associated Press, most of the DSC-T5 cameras were sold in the US, Europe and China with 66,000 of them sold in Japan. If you're wondering if your Cyber-shot is one of the one being recalled, you can identify it by the serial number on the sticker on the bottom (if it hasn't peeled or warped off). The serial numbers from 3500001 to 3574100 are the ones being recalled by Sony.
If you've already paid for the repair Sony says it will reimburse the costs to you and will also pay any shipping involved in getting your repair done. You can find out more about this "irregularity" and how to go about getting your repair or reimbursement at the Sony Support site.