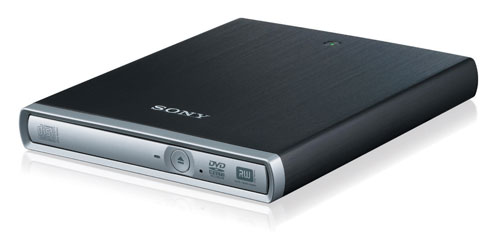 Sony unveiled today three next-generation dual format DVD/CD recordable drives for computer users. The most interesting looking of these three drives is the slim, external DRX-S70U.
The Sony DRX-S70U ($130, September) is geared towards those who want a more stylish DVD burner sitting alongside their notebook PC. This burner supports both dual and double layer formats, offering 8X DVD+/-R, 4X DVD+/-R DL, 8X DVD+RW, 6X DVD-RW, 5X DVD-RAM, and 24X CD-R/RW recording speeds. It comes bundled with a full version of Nero 7 and sports a USB 2.0 interface.
Sony's other drives, the internal DRU-840A drive and external DRX-840U burner, are worth noting for their recording speeds. They in particular support 20X DVD+/-R recording speeds, delivering a 4.7 GB disc on standard 16X DVD+/-R media in about five minutes. In addition, the drives can record on 8.5GB DVD+/-R Double/Dual layer and 4.7GB DVD+RW discs at 12X speed.
DRX-S7OU, DVD burner, Sony