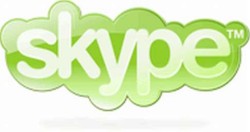 Thursday was a stressful day for frequent users and especially for those who have come to be dependent on the Skype online phone network. Yesterday the service when down for much of the day, and officials are unsure how long the outages will last. According to Skype officials they have found the problem and are working around the clock to correct the issue.
"There is a chance this could go on beyond tomorrow, but it's our hope that it's going to be resolved," said Kurt Sauer, Skype's chief security officer on Thursday. "What happened today was caused by a unique set of events, the genesis of which is not entirely understood."
The Skype service allows its users to make free phone calls through their broadband internet connections using a peer to peer network. The connections are managed through "supernode" servers owned by Skype, which appear to be the central point of the outage.
The outage was due to a flaw in the Skype software that is present in every copy downloaded since Skype's inception five years ago, but for some reason did not show itself until now, leaving Skype executives still unsure of its initial cause.