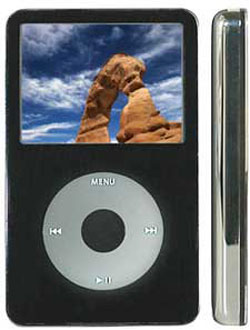 Hmmm…does this portable media player design seem familiar? It's not who you think it is – a company by the name of Scotty Media Players surfaced on our radar today announcing a "fifth generation" of MP3/MP4 players. These look to be available now at $79 for 4GB, $99 for 8GB and $159 for 60GB.
Let's focus on the 60GB model (note though as well on the company's Web site the smaller players). Interesting design similarities aside we find this Scotty Media Player to be pretty well loaded with features. It's designed to sync with your music and movies through Windows Media Player. It has a touch sensitive "click wheel" for navigation and a 1.8-inch OLED display. This PMP is compatible with AMV, MP2, MP3, WMA, WMV, ASF, WAV, AVI, DivX, ASF, MPEG, QuickTime and RealMedia and offers a reported 55 hours of battery life.
Scotty Media Players said its design team India is working on a new generation of players which will use touch screen technology, Bluetooth and WiFi. It will be interesting to see what this low cost Apple competitor brings to market – if it's still around by the sixth generation that is.