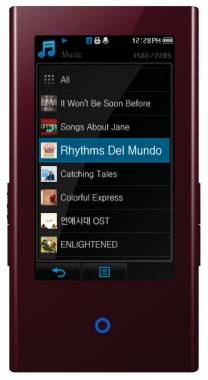 Two new additions to Samsung's line of digital media players have made their introduction to the world. The YP-P2 and YP-T10 are ultra-slim (0.3 for the first, 0.4 inches for the latter) and both have built-in Bluetooth 2.0 capability so you can listen via wireless Bluetooth 2.0 headphones or speakers.
The T10 is the lesser spec'ed of the pair with a 16:9 2.0-inch display screen (240 x 320), battery life for up to 30 hours of music listening or 4 hours of watching a movie and 4 GB of NAND flash memory. The P2 can be picked up in either a 4 GB or 8 GB size and squeezes another 5 hours of music listening/1 hour of video from its batteries, has a 3-inch wide screen (480 x 272) and has a sleep timer and auto-off feature not found in its sibling.
Both models play MP3/WMA/WM9/MPEG4 files, have an FM tuner, clock, voice recording, text and JPG display support. They also each come in black, white or the catchy colors of mystic purple for the T10 or wine red for the P2.
Samsung rolls out the pair next month in the US with pricing to be announced shortly.
via SlashGear