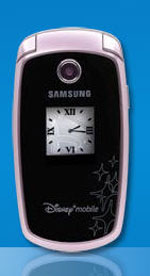 Mickey and company are eyeing your wallet today as Disney Mobile and Samsung announced two new mobile phones for the Disney Mobile service. Expect these phones to run you about 20 Mouse Ears after a rebate and two-year detail picking up trash at Disneyland.
The Samsung DM-S105 (silver) and DM-S110 (pink) Disney Mobile phones are very much your garden variety cell phones housed in curved clamshell designs. You get your dual-band, tri-mode, a built-in VGA camera, Bluetooth and an internal and external display. There's also a hands-free speakerphone to scream into as you ride the Matterhorn.
Perhaps the most interesting feature of this phone is an offering tied directly into the Disney Mobile service which lets parents monitor spending limits, determine when their child can use their mobile phone, who they can talk to and the ability to locate their child's phone using GPS technology. Remember kids, Goofy is watching.