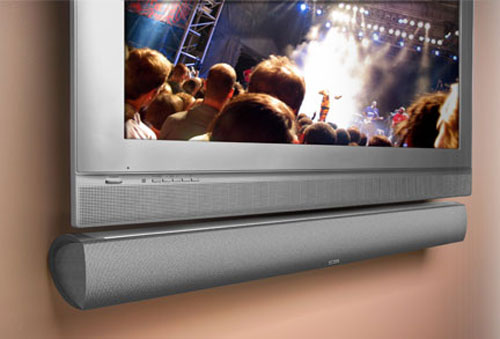 Polk Audio today said it was adding a 51-inch model today to its SurroundBar family of single surround sound speakers. The SurroundBar50 will be priced at around $1100 and should be available in October.
The Polk Audio SurroundBar50 is designed to match the width of 50-inch plasmas and LCD TVs. It is a slim, front-mounted speaker which lets one enjoy surround sound without the need for additional speakers. This speaker uses special image enhancing technology to enhance and produce a large stereo soundfield from a two-channel source. It also offers new drivers, a crossover design and larger enclosure for better bass.
The SurroundBar50 is 4.5-inches high and 5.1-inches deep. Its aluminum housing can be wall mounted above or below a television and comes in two finishes. If you've got the cash and need a single bar surround sound solution Polk's product might be the answer – we have yet to be disappointed by anything it has produced.
Polk Audio SurroundBar50 via OhGizmo