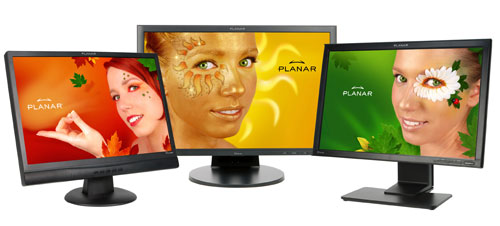 Planar Systems unveiled today three new widescreen LCD monitors which reportedly offer up to 82 percent more workspace than a standard 19-inch monitor. These new models are branded as the PX2611W, PX2411W and PX2210MW.
These new Planar PX LCD desktop monitors come in 26-, 24- and 22-inch screen sizes respectively and are geared for specialty markets like graphic design and video editing. A lot of features are available on these units, depending upon the model, and include WUXGA 1920 x 1200 resolution, DVI-D inputs, a four-port USB hub, built-in speakers and a stand which offers height adjustment.
Planar says the new flat-panel monitors provide up to 82 percent more screen space than a standard 4:3 19-inch display. That should be great for displaying multiple Web pages and such for those who want to feed their online video watching obsession big time.