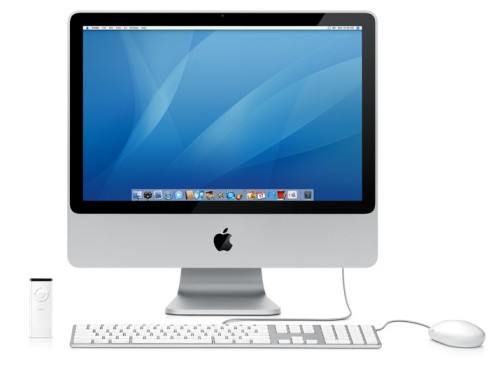 Today Steve Jobs announced Apple's new iMacs at the companies summer press conference. The announcement came as no surprise to most as rumors of the new iMacs and their features have been plentiful over the past weeks.
Jobs made heavy reference to the construction materials of aluminum and glass with the new iMacs, talking of its "elegant" look, the fact that the glass is scratch resistance and how both materials are recycle-friendly. The new iMacs will come three models of 20-inch and 24-inch glossy frames.
All three models feature USB 2.0, Firewire, 8x SuperDrive, and an iSight camera as you might expect. They also house aCore 2 Duo processor, ATI Radeon HD Pro graphics card, 802.11n, Bluetooth 2.0 and 1GB of RAM.
Pricing runs from $1,199 for the 20-inch model with a 2.0GHz processor, 250GB SATA drive and an ATI Radeon HD 2400 XT. For $1,499 you can bump up the processor to 2.4GHz, get an increased drive capacity of 320GB and an upgraded 2600 Pro graphics card. The $1,799 iMac has the same features as the upgraded 20-inch model but with a 24-inch LCD.
Source: Engadget