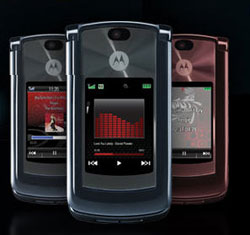 Motorola revealed today plans to debut its highly desired Razr2 mobile phone from major U.S. wireless carriers Alltel, AT&T, Sprint, T-Mobile USA, US Cellular, and Verizon Wireless. Specific availability and pricing plans are at the discretion of the carriers, though some are expected to make the phone available shortly.
The Motorola Razr2 is considered a significant improvement over the original Razr. This new model gives you a larger internal screen for what Motorola says will be an ability to have full HTML Web browsing. There will also be an external screen which provides "touch feedback" and lets users view media, music and messaging without needing to flip open the phone.
Also mentioned by Motorola as features to consider on the Razr2 are better voice quality, "point-to-point" video, Bluetooth and up to 2GB of on-board memory. Expect wireless carriers to be creative with pricing, plans and extras as they will all have to put their own little twists on what is sure to be one of the hottest gadgets in the coming months.