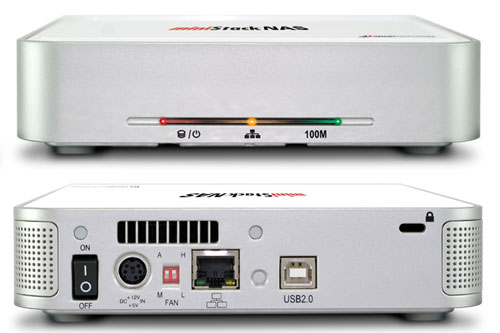 Network Attached Storage (NAS) for the purposes of sharing media across a home network is a category more and more computer companies seem to be wandering into. Newer Technology adds its own entry into the race with its new miniStack NAS.
The Newer Technology miniStack NAS, available in storage sizes up to 750GB and starting at around $120, is geared towards the home or small office network. Newer Technology says this NAS device, which connects with up to 20 Windows or Mac users, can stream multimedia files to compatible media players and only requires installation of a device driver to each connecting computer. One can also connect to the miniStack through USB 2.0.
Rounding out the features of the miniStack NAS it also offers speedier performance during multiple accesses, front panel LED lights and configurable levels of access. The multi-storage configuration options is nice – there's even a "build your own" option for those who want to add their own hard drives.
Newer Technology miniStack NAS