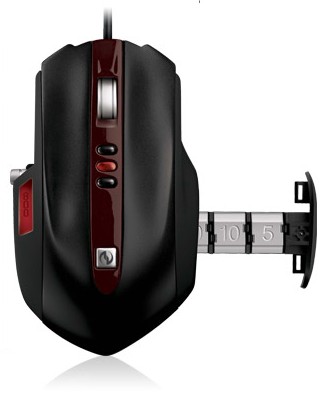 Microsoft has launched the Sidewinder mouse built specifically for high-performance PC gaming. The Microsoft Sidewinder is loaded with features to make it highly customizable and in turn very comfortable.
The mouse features three buttons that allow you to switch on the fly between 400, 800, and 2000 DPI or set a customized setting with the included software. It has an LCD display to show the current DPI or macro recording icons and a Vista gaming quick launch button along with 5 other buttons you can customize. It comes with an accessories box where you can load up and adjust the weight of the mouse to give better control for different uses, and the accessory box doubles as a "cable anchor" to keep slack in your mouse cable, giving it a wireless feel, according to Microsoft.
In total the mouse offers almost 5,000 different custom configurations and Microsoft says the Sidewinder will be available in October retailing for a very reasonable $79.95.