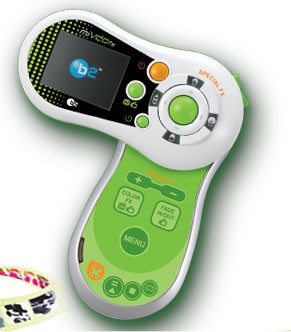 This unique looking mobile phone-like device is actually not any type of phone at all but is a small DV cam that lets you take photos and record video that you can edit right on the spot.
The mi VDO FX DV Cam sets itself apart from other similar devices through its ability to edit recorded video and add in 3 special FX style modes and up to 18 different visual effects to the footage. You can also add music to your video right on the device. It will even let you record music through a line-in from your MP3 player while recording the video, giving you an instant YouTube worthy clip without using your computer.
The camera retails for around $99 and features a 1.5″ color display, a single speaker, micrphone, 4X digital zoom and can expand its memory through an SD card slot supporting up to 2GB. Data can also be transferred through USB or AV cable ports with the included cables.